Engage University allows everyone to develop his positive leadership :
Transitions Program
 
Offers a training of 10 days over 4 months around the 5 themes of the transition:
New technologies and the common good
Environment and climate change
Ethics
Individual and collective governance
New complexities
It addresses a theme in depth in an accessible format: one evening a week – Wednesday 7:30 pm to 10:30 pm – 6 weeks
– First program : developing responsible and inspiring organizations
April 19 to May 31
– Second program : towards a humanist digital transformation
June 7 to July 12
Tailor-made for companies, allows to deepen the themes of the Transitions and Exploraction programs.
Examples of themes:
Digital: towards a Humanist Transformation
CSR: developing responsible and inspiring organizations
Governance: towards new individual and collective governance
Three days of conferences, workshops and collective actions to meet with those who think the world of tomorrow and help those who build it. There are a time of exchange, action, encounters, understanding, collaboration, creation.
The Engage Days takes place at the Moulin d'Andé, one hour away from Paris, a place of interdisciplinary, creation and inspiration.
You wish to attend? Contact communication@engage.world
Participate to High Impact Projects
We support projects with high societal impact through collective intelligence and action.
– We organise an Engage Camp
– We establish an interdisciplinary team to support the project on the long run
– We gather the community opinions, skills and network
Do you wand to submit your project to the community?
Please contact us : communication@engage.world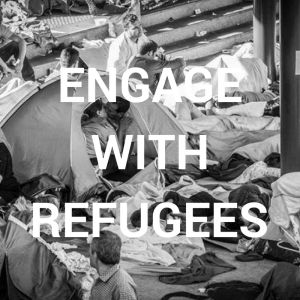 The first project internally imagined and developed by the community.
Our mission : facilitate the social and professional integration of refugees, display their talents and change the social prejudice on them.
An initiative launched at the Engage Days. After the publication of a first book of testimonies sold with 3,000 copies, realized by and with refugees, Engage With Refugees is now developing its peer to peer mentoring platform.
Gatherings of about 50 persons during 3 hours of collective intelligence that mobilise the community around a project.
Do you need the support of the community? Do you wand to submit your project to the community?
Please contact us : communication@engage.world