ENGAGE University Programmes
TRANSFORMATION
1 day, 5 days or 10 days to better understand and apprehend the challenges of the 21st century – and develop major soft skills.
CORPORATE
Training courses tailored to your need. We also help you to create or enrich corporate your corporate university.
Programmes give participants the opportunity to: 
Understand and expand their vision of contemporary issues: reconsider the planet and its resources, imagine tomorrow's cities. innovate towards humanistic technologies.
Develop their skills: master collective intelligence, convince and inspire engagement, communicate and manage in a constructive way, renew their creativity.
Apply new knowledge in their area of responsibility in order to create or take part in the development of contributive projects.
Enter a multidisciplinary network of innovators and confront their points of view.
ENGAGE Action Hub is an innovation centre dedicated to supporting people and organisations in the development and support of collaborative projects.
As an individual or entrepreneur, you will be able to implement new solutions, develop your projects and contribute to existing initiatives.
We support projects with high societal impact through collective intelligence and action.
– We organise an ENGAGE Camp
– We establish an interdisciplinary team to support the project on the long run
– We gather the community opinions, skills and network
Do you wand to submit your project to the community?
Please contact us : communication@engage.world
The first project internally imagined and developed by the community.
Our mission : facilitate the social and professional integration of refugees, display their talents and change the social prejudice on them.
An initiative launched at the ENGAGE Days. After the publication of a first book of testimonies sold with 3,000 copies, realized by and with refugees, ENGAGE With Refugees is now developing its peer to peer mentoring platform.
Gatherings of about 50 persons during 3 hours of collective intelligence that mobilise the community around a project.
Do you need the support of the community? Do you want to submit your project to the community?
Please contact us : communication@engage.world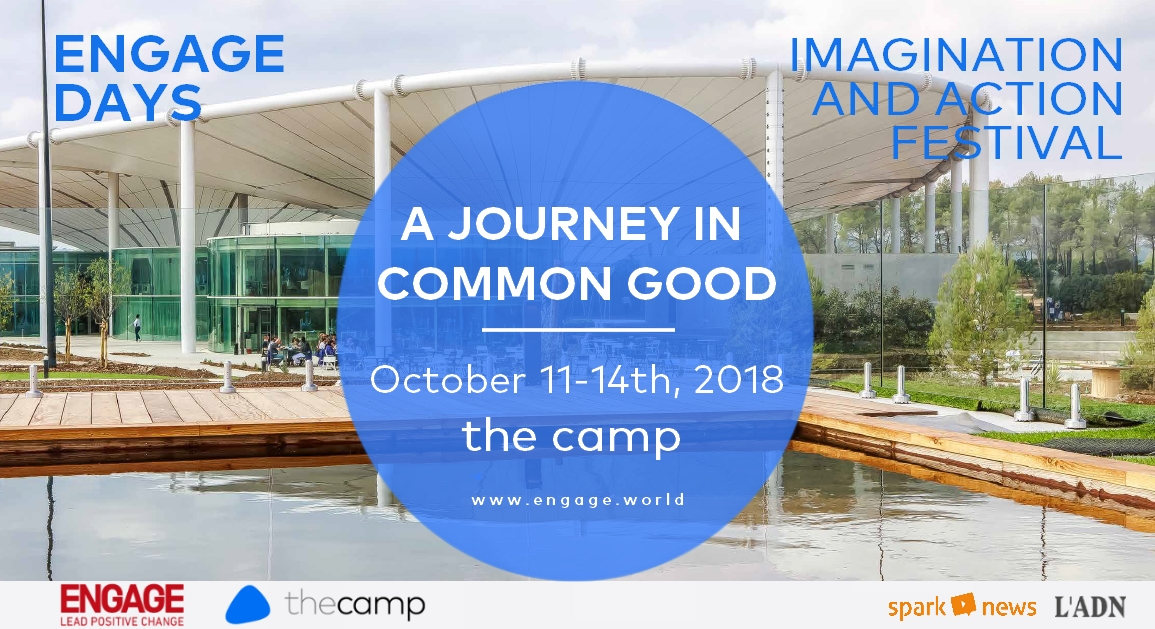 Three days of conferences, workshops, art and collective actions. Three days to connect with those who want to be actors of our changing world. Three days of exchange, action, encounters, understanding, collaboration, creation.
At The Camp, a place of interdisciplinary and positive innovation and inspiration.
You want to join ? Contact us at fanny@engage.world
A conference cycle organized with the Fondation pour la Nature et l'Homme, about Common Goods.
Our third meeting was questioning ethics & common goods.
Our 120 speakers, members of the ENGAGE network, form a community of specialists, thinkers and doers, leading experts in their eld, who share common values. This community brings together researchers, academics, social entrepreneurs, leaders in NGOs and associations, philosophers and writers, corporate leaders, artists and innovators.